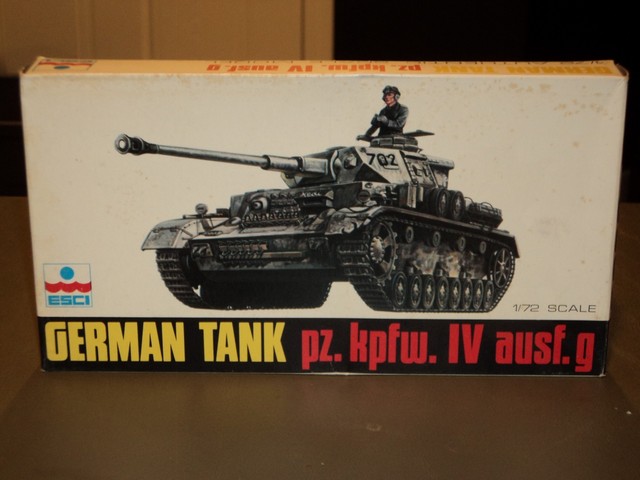 I picked two more Panzer IVs on eBay just like this one. Costing less than $10 each, such good value, even if they are the kits with the nasty vinyl tracks. I am now confident I can defeat the horrible things with a good dose of super glue and patience. I needed a couple more Panzer IVs to go with my Zvezda troop that I built previously. These Esci kits still hold up nicely, you just need to give them a bit more love than more modern kits. These two I made quite a few alterations to get them up to scratch.
First up is to sort out the tricky tracks. I managed to totally snap one of the tracks trying to wrap and glue them around the running gear, leaving a missing section. My solution for both vehicles was to scratch build side skirts to cover up the top section of the tracks. This gave me free reign to use wire to connect the tracks to the top return rollers, knowing it would all be covered up by the schurtzen. I used thin plastic card and the Zvezda skirts as a template. I also needed to build turret armour using the same plastic card superglued to thicker wire so it would retain its curved shape around the turret. This worked out quite well as I basically just tried to copy the Zvezda tanks.
One of my old Esci kits had a malformed gun barrel, so i bought a nice new metal one for a few dollars and replaced it. This was a great improvement too. I also picked up a tow cable to add. I drilled some holes and glued in aerials as usual. These kits let you leave the turret open so I did that on one tank ready for my AB figures crew man.
Paint job was a black undercoat followed by a Tamiya dark yellow spray. I then hand painted the green camo which was followed by a light overspray of dark yellow again. Gloss varnish and decals is followed by a MIG dark brown wash to pick out details. I did some chipping and scratching to make it all look nice and work, using a sponge and even just sand paper to leave some marks on the paintwork. After a matt varnish i used plenty of dusty pigments for the weathered look. My AB commander was painted and added and you can see him relaxing in his hatch below.
I was happy with the end result with all my additions and they fit in nicely with the two Zvezda kits i had made previously. Overall these Esci kits are great if you can be bothered to give them a little more love and attention.