Continuing my German armour building plans i got my hands on this Jagdpanzer kit from Hasegawa. Again the best Japanese on line hobby shop have this at a great price compared to everywhere else, especially for those of us in Australia! Hasegawa kits just keep surprising me, each new one I build, the more I like them!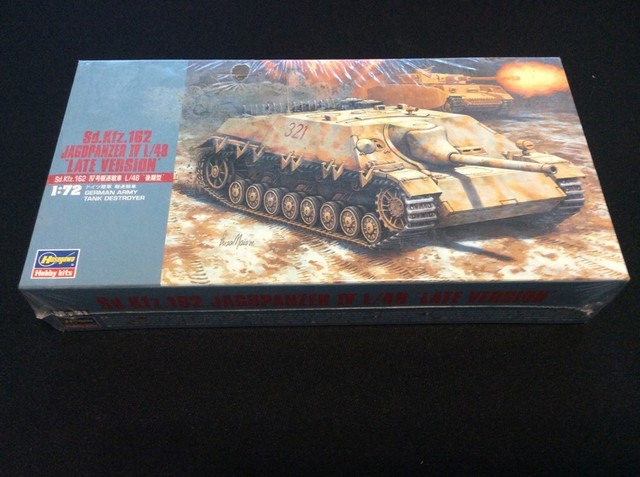 The Jagdpanzer is another German tank destroyer that i am not sure was used too much in Normandy. I am guessing it was used more on the Eastern front, but i could be wrong. Anyway i wanted to build one and i am sure it will be happy to fit in with my Stugs and Hetzers. The kit comes in the usual Hasegawa grey plastic which is really easy to cut and glue. Wheels are simple and go straight onto the bottom hull. Eight along the bottom and then four return rollers on the top. You need to make sure you keep the lower hull and upper hull separate before painting them and after painting the tracks. The tracks need to go onto the lower hull before gluing the two together otherwise it will be very tricky to get them on. The tracks are the one piece rubbery type so give them a good stretch to make sure they fit OK without straining on the drive and sprocket wheels. You do not want to snap anything off……
The upper hull is pretty straightforward but it does not miss any detail. You have to open a couple of holes and also fill a couple of others. On the front of the hull there is one bigger area to fill which i made a total pigs ear of. I made such a mess with my filler and sanding i had to cover it up with extra track. Great way to cover my mistakes! I also added some more track along the front and the usual washing up brush plastic bristle aerial. If you haven't tried that yet i suggest getting a $2 washing up brush from Woolworths with plastic bristles. Hey presto, 200 plastic aerials! I was super impressed with the detail and the challenge of this kit. Hatches can be open or closed, and I have a commander in the painting queue soon to be added.
Painting started with an undercoat of matt black followed by dunkelb dark yellow. Then i did a red brown and bright green camo pattern. Gloss varnish, followed by decals and dark brown wash and finally some chipping using a sponge. Its the usual process but i was happy how it all came out. I had also based the tank on 3mm mdf as usual. After a coat or three of matt varnish i used mud, dirt and various weathering powders to create the final dirty finish. The base was completed with tufts and flock and a little static grass.
This kit is excellent and a great balance between a challenging build without being frustrating. For a wargamer i do not think you will find a better version of this tank. I also made some camouflage foliage for the crew to further hide their vehicle so I will detail them in my next post.