Slight change of pace for Colonel M this post. I have been itching to play this board game for a while since I bought an old copy on eBay. I always thought it was going to be exactly the kind of game that I would enjoy and I was not disappointed. All of my wargaming time is spent flying solo so it is a special treat to have a game dedicated to the solo gamer. Painting and modelling has been put on the back burner for a couple of weeks as I have played through the first couple of missions of "Ambush".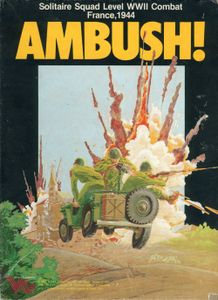 Although out of print you can still pick up a copy for $100 or maybe better if you have a good hunt around. It's an engrossing, exciting and challenging game. You create a squad of US troops, then sneak them around a map. There is a very clever system of hex lookups which can point you to an event, depending on where you are on the map and what has already happened. So you never know what is around the corner. It could be a German sniper in the trees or an LMG on your flank. Your reaction and perception levels all affect how quickly you may see something. If your squad is a bit slow and wander into the wrong hex it could be all over. Of course once you have played a mission once, and probably failed hopelessly the first time, the following attempts do get easier as some of the surprises you will have already encountered. My first mission I was far too bold and half my squad was wiped out very quickly. The difficulty of the game does encourage some replay potential.
While nothing is happening and no Germans have appeared, gameplay is very quick as you move from hex to hex. Once someone appears trying to waste your squad gameplay changes into an excellent combat process. Initiative is crucial, as are your commanders. Your officers can give other soldiers extra actions and also prevent panic, so don't spread your men out too thinly or the weaker ones may fall in a heap in the dirt. But also don't bunch up too close or that MG42 will cut you to pieces.
Its addictive. Once you start a mission its like a good book you cannot put down. Just one more hex. I just want to see if I can cross that road. There are periods when all you can hear are your squads boots stepping cautiously along the track. Then without warning bullets ring out and your men are hitting the dirt. Its a lot of a fun, so painting and modelling might be in second place for a couple of weeks yet. I am already thinking that some of these rules could be adapted for my table top games as they are so much fun to play.